Paper Straws Making Machine
Description Of Paper Straws Making Machine

Don't think that the straw you use when drinking soda in your daily life is inconspicuous, but it is already an indispensable item in daily life. As the world pays more and more attention to environmental protection, paper straw products have received more and more enthusiasm. In addition, the paper straws machine produced is now very common . We are a professional paper straw machine manufacturer, bringing you the best quality and best price. We pay attention to quality and use high-quality accessories to make the machine last longer.
Our paper straws making machine can cut finished paper tubes online. It is suitable for producing paper straws of various types and specifications, such as diameters of 5mm; 6mm; 8mm; 10mm, etc. The whole machine has compact structure, fast speed, high efficiency, safe and stable operation.
Specification Of Paper Straws Making Machine
| | |
| --- | --- |
| Model | ZGJ-5 |
| Paper layer | 2-5 layers |
| Inner diameter | 4-12mm |
| Thickness | 0.3-1mm |
| Speed | 1-30m |
| Cutting system | 5 cutters |
| Operator | 1-2 person |
| Power supply | 380V,3 Phase,50Hz |
| Weight | 1200KG |
| Overall dimension | 8000x6000x1800mm |
Machine parts: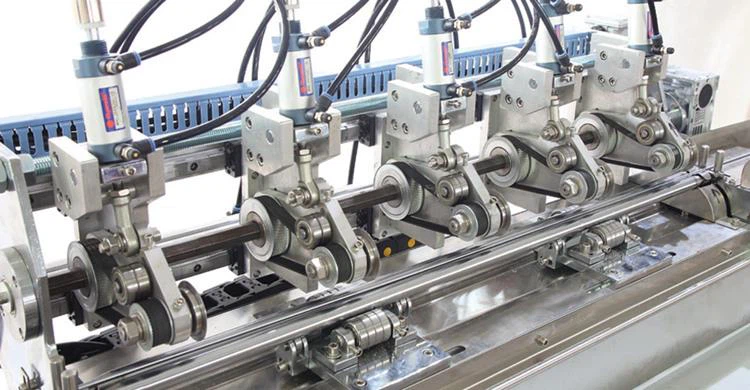 Multi cutter system
Paper coiling device
Product Samples Of Paper Straws Making Machine
FAQ
What should I pay attention to when using the paper straws making machine?
According to the more and more widespread use of paper straws making machine, how to do the usual maintenance work reasonably is a very critical problem.Before starting the paper straws making machine, carry out the following inspections:
1. Gear transmission inspection. The transmission gear, sprocket chain and transmission chain should be kept clean, and the transmission gear should be coated with a small amount of high temperature resistant grease.
2. Check if the gas supply connection is proper.
3. Check whether the electric control system is normal.
4. After performing the above regular inspections and adjustments, you can first open the low-speed packaged goods to check whether the quality of the packaged goods meets the requirements. If there are defects in the paper straws making machine, make relative adjustments until they meet the quality requirements of the goods. Slowly increase the production rate.
5. When the machine is turned on, check whether the inside of the machine is blocked by dirt. When abnormal noise is heard, the machine should be stopped immediately and inspected in time.
6. Check and clear immediately. At the end of the machine work every day, the equipment itself and its vicinity should be cleaned up immediately to keep the equipment clean and prevent the machine from being polluted by the environment.